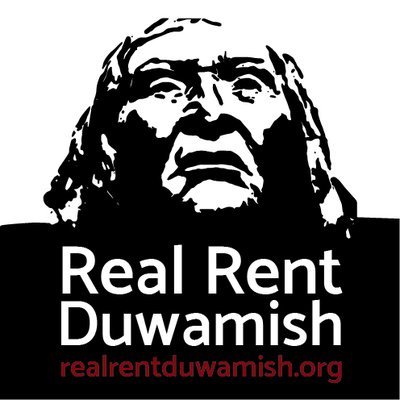 One of the ways we are engaging in racial and indigenous justice is by sharing our resources and assets. Acknowledging that these resources are "ours" because of generations of indigenous stewardship and Black enslavement, we are blessed to offer some restitution.
The Love & Justice Committee chose this year to give $4,400 of our congregation's love and justice budget to two indigenous organizations. We are paying $2,400 in Real Rent to the Duwamish ("people of the inside") nation this year. This Rent is a token acknowledgment of how we continue to benefit from the presence and stewardship of the Duwamish people in this city. All money goes to Duwamish Tribal Services, which provides social, educational, and health services, operates the Duwamish Longhouse and Cultural Center, and supports the vitality of Duwamish culture. The Duwamish are not recognized by federal, state and local governments. Without formal recognition, the tribe isn't eligible for benefits like social services, education programs, health assistance, and sovereignty over their own ancestral lands. From the Real Rent Duwamish website is this startling set of numbers: "In 1971, 1,000 Duwamish members were paid $64 each for their land. That is $64,000 for 54,000 acres of land. $64,000 adjusted for inflation today would maybe buy a single 1,000 square foot tiny home. In 2017, the median household income for Seattleites was $82,133." UCUCC also contributed $2,000 to the Chief Seattle Club, a Native-led human services agency and day center. While 1% of the King County population is Native, they represent 15% of the county's homeless population. Chief Seattle Club offers bridge housing, low-income studio housing, a traditional foods social enterprise café, a job training program and a clinic run in partnership with the Seattle Indian Health Board. Sacred Medicine House, opening in the fall of 2022, will provide 120 units of permanent supportive housing, while plans are in development for more affordable housing and a Coast Salish Longhouse at the North Seattle College campus.
We are grateful for your generosity, which we can share with others.